Shinichi Hara
---
Contemporary artist, creative director,
Guest Lecturer at Tama Art University and Tokyo Designer Gakuin College.
Prior to dedicating himself to his lifelong "Super Love" wave project, as well as his trademark works featuring international signs and icons, Hara has had a 35 year successful career as a graphic designer, working closely with major record companies, designing record covers and logos for Japanese and International music stars. To this day, over 100 million records and CDs bearing his designs have been sold.
Through his never ending series of "Super Love" wave, he wishes to unite cultures and mankind as a whole, in a cosmic way, for beyond artificial boarders and languages, we all belong to the same universe. Hara hopes that one day, all the works of his series will be exhibited as part of an unbroken chain, each piece following the previous one as to create an infinite wave that unites mankind.

He has been described by many art critics as the renaissance man of the four century-old Japanese Rimpa School, which emulates the Japanese spirit. 

The artist is also the designer of the famous musical robot MIURO, for which he has won a prize attributed by the Ministry of Economy, Trade and Industry. This robot is also known for being offered as a gift by the Prime Minister of Japan to visiting foreign heads of state and dignitaries.

Hara's most recent major solo exhibitions featuring his greatest works on a massive scale include Takashimaya Tokyo and Kyoto in 2015, Ginza 6 in 2017.
ARTWORKS BY THIS ARTIST
See All
---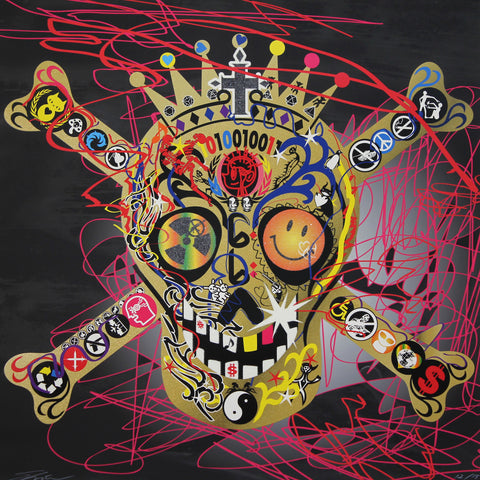 Quick View
NEW SPIRIT FACE 1 (Pink-2)
Shinichi Hara

Quick View
CROSS
Shinichi Hara

Quick View
SUPER LOVE 4 (RAINBOW FLAG)
Shinichi Hara

Quick View
3000 YEARS - 1,2
Shinichi Hara
See All